Opening hours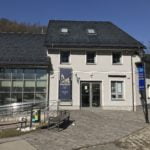 Tickets to Orava Castle can be purchased only in the ticket office in the Orava Castle Information Centre located right under the castle hill.
We would like to inform you that the Orava Castle will be opened with strict safety measures applied.
The tours are operated individually, with 1 person per 15 m2.
You can download an ORAVA CASTLE audioguide in App store and Google play
Orava Museum does not provide parking area for its visitors. Public parking near the castle is managed by the town of Oravský Podzámok.
Tickets can be purchased for the whole time of the ticket office opening hours.
Entry only with a mask
Ticket office opening hours

| Month | Time |
| --- | --- |
| January, February, March | 09:30 - 15:00 only Main tour is open |
| April | Closed (open only 14-19.4.2022) |
| May | Monday- Friday 09:00 - 15:00 Saturday - Sunday 09:00 - 16:00 |
| June | 09:00 - 16:00 |
| July, August | 08:30 - 17:00 |
| September | 09:00 - 16:00 |
| October | 09:00 - 15:00 |
| November, December | open from 27 of December 9:30 - 15:00 |
More information about tours
Prices
Tour booking, information